Kazan Trjasun
(Kazanski Trjasuni Statnije)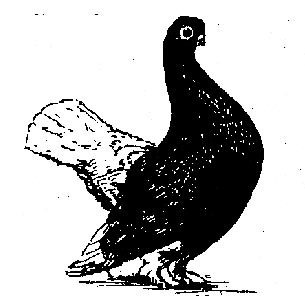 The true ideal of the Imperial Russian Kazan Trjasun
CH. Tsar Alexander P.A. Gray cock
2 X BIS, 2 X Champion Rare, 2 X Champion Slavic, 2 X Reserve Slavic
14 times "HS" rated in 15 showings.
Ranked #1 Among All Slavic Breeds in North America in 1999 and 2000
By the International Federation of Slavic Breeds Clubs.
Ranked #1 Kazan Trjasun Worldwide in 1999 and 2000.
A Gold Medal Award Winner
Breeder: K.D. Spurling and the late Gary Blain.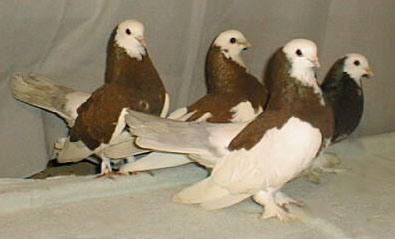 Four beautiful Red Balds from the loft of Jim Fathbruckner of Ohio.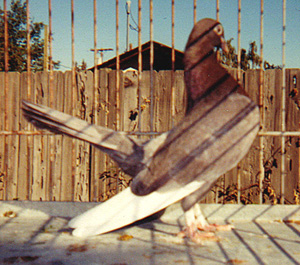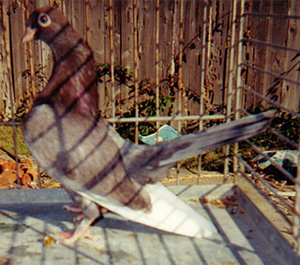 Two views of an Aug. 2000 bred Gray w/w cock as a squeaker bred by K.D. Spurling
A 3/4 linebred son of CH. Tsar Alexander P.A.
Note the extremeness of station in the photo on the right for a bird this age, coupled
with an incredibly flat tail.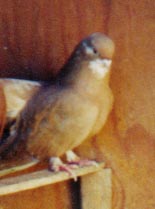 The famous Yellow hen, Impreska Anya, imported from the loft of Statnije legend Ivan Schmelev of Yekaterinagrad, Urals. Note the "soft look" coupled with the broad forehead and thick, downset beak that is a reminder of the original Kazanski Trjasuni of yesteryear. Check back in the Spring of 2001 to see some 3/4 linebred children of Anya that are expected by breeders worldwide to give a rebirth to the Imperialist era Kazanski Trjasuni.
The Kazan Trjasun by K.D. Spurling


Official Standard Of The Kazan Trjasuni